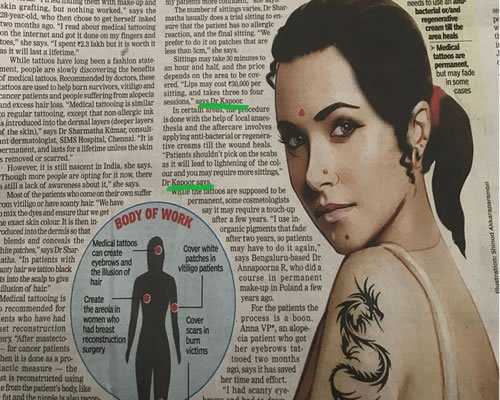 Spot her medical tattoo
An increasing number of people with scars and conditions such as Alopecia and Vitiligo are getting inked to 'restore' eyebrows, mask white skin patches and to `arrest' a receding hair line
When Prema Natarajan* was diagnosed with vitiligo – a condition characterised by patches of skin losing pigment – she began treatment immediately. But while medicines controlled the spread of the disease, the pale patches on her body made her selfconscious. "I tried hiding them with make-up and skin grafting, but nothing worked," says the 28-year-old, who then chose to get herself inked two months ago. "I read about medical tattooing on the internet and got it done on my fingers and toes," she says. "I spent Rs 2.3 lakh but it is worth it as it will last a lifetime."
While tattoos have long been a fashion statement, people are slowly discovering the benefits of medical tattoos. Recommended by doctors, these tattoos are used to help burn survivors, vitiligo and cancer patients and people suffering from alopecia and excess hair loss. "Medical tattooing is similar to regular tattooing, except that non-allergic ink is introduced into the dermal layers (deeper layers of the skin)," says Dr Sharmatha Kumar, consultant dermatologist, SIMS Hospital, Chennai. "It is permanent, and lasts for a lifetime unless the skin is removed or scarred."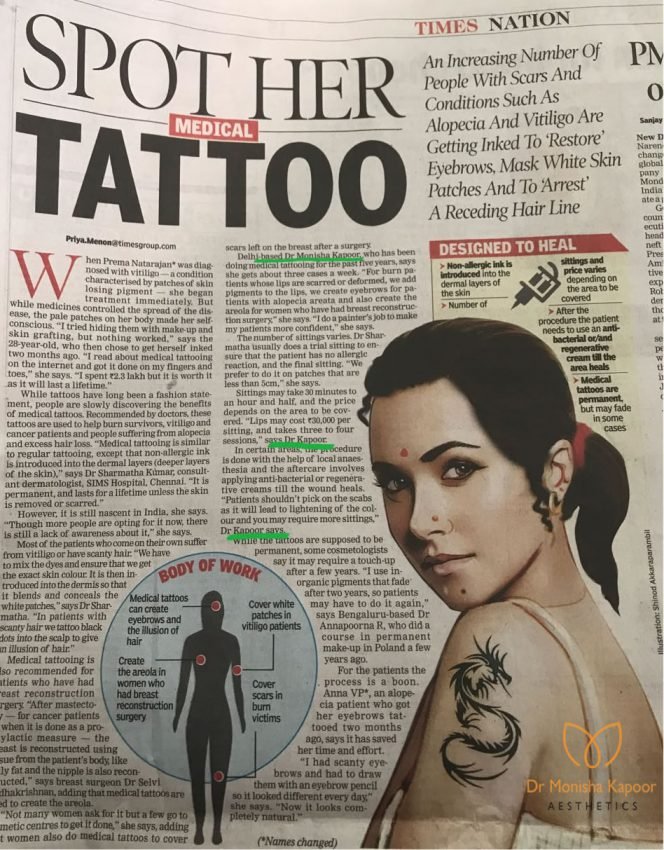 However, it is still nascent in India, she says."Though more people are opting for it now, there is still a lack of awareness about it," she says.
Most of the patients who come on their own suffer from vitiligo or have scanty hair. "We have to mix the dyes and ensure that we get the exact skin colour. It is then introduced into the dermis so that it blends and conceals the white patches," says Dr Sharmatha. "In patients with scanty hair we tattoo black dots into the scalp to give an illusion of hair."
Medical tattooing is also recommended for patients who have had breast reconstruction surgery. "After mastectomy – for cancer patients surgery or when it is done as a prophylactic measure -the breast is reconstructed using tissue from the patient's body , like belly fat and the nipple is also reconstructed," says breast surgeon Dr Selvi Radhakrishnan, adding that medical tattoos are used to create the areola.
"Not many women ask for it but a few go to cosmetic centres to get it done," she says, adding that women also do medical tattoos to cover scars left on the breast after a surgery.
Delhi-based Dr Monisha Kapoor, who has been doing medical tattooing for the past five years, says she gets about three cases a week. "For burn patients whose lips are scarred or deformed, we add pigments to the lips, we create eyebrows for patients with alopecia areata and also create the areola for women who have had breast reconstruction surgery ," she says. "I do a painter's job to make my patients more confident," she says.
The number of sittings varies. Dr Sharmatha usually does a trial sitting to ensure that the patient has no allergic reaction, and the final sitting. "We prefer to do it on patches that are less than 5cm," she says.
Sittings may take 30 minutes to an hour and half, and the price depends on the area to be covered. "Lips may cost Rs Rs 30,000 per sitting, and takes three to four sessions," says Dr Monisha Kapoor.
In certain areas, the procedure is done with the help of local anaesthesia and the aftercare involves applying anti-bacterial or regenerative creams till the wound heals."Patients shouldn't pick on the scabs as it will lead to lightening of the colour and you may require more sittings," Dr Monisha Kapoor says.