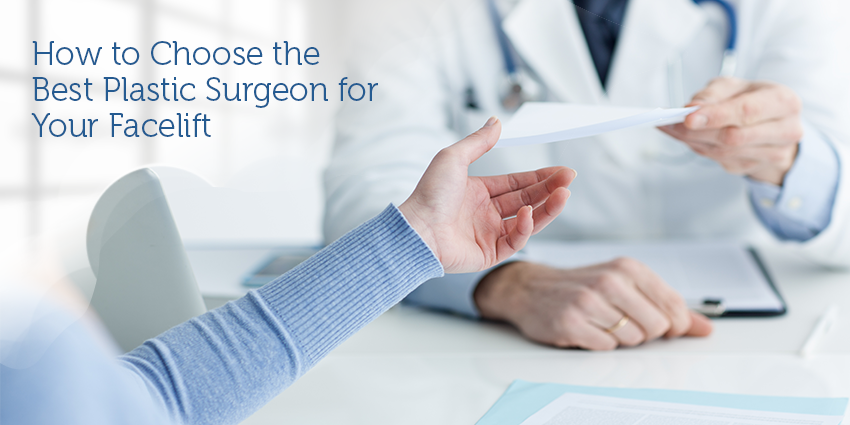 How to Choose the Best Plastic Surgeon for Your Facelift
Having a plastic surgery is always a big decision and if you are like the majority of other people who have been thinking about this for quite some time, then choosing a right facial plastic surgeon is indispensable. Once you've made up your mind to the point that you are ready to go ahead with a facelift surgery to trim down or to remove the appearance of sagging skin, wrinkles and lines, the first step is to choose the right plastic surgeon.
This is one of the most important decisions that one has to make as the choice of experienced, credentialed facial plastic surgeon will be a choice with which you will live for years. A successful plastic surgery will make you feel refreshed and rejuvenated and more like yourself and will bestow on you greater confidence for the rest of your life. On the contrary, ending up in the hands of an inexperienced surgeon increases the chances of having unfavorable results which may lead to added costs, time, and distress. The end result depends greatly on the skill and diligence of your surgeon. Choosing a board certified plastic surgeon, who has plenty of experience in the facelift, is significant for achieving the results you desire. Here are a few tips that will help you pick the right plastic surgeon for your facelift surgery procedure.
Acquire complete knowledge before
A lot of men and women who want to have a facelift to reverse the signs of aging may have numerous doubts related to surgery, its past effects, etc. So, having a complete knowledge to your facelift will help you provide the best results. Do remember that an experienced plastic surgeon would consider the face as a whole instead of focusing on each part separately. The amount of time spent with the surgeon before surgery is an exhibitor of the time he or she will spend performing the surgery and afterwards. Try to spend at least 45-50 minutes for at least 1-2 times before the surgery and make sure that you make them understand well about your health issues as well as obtain a proper understanding about surgery.
Check the Board Certification and Education
Selecting a board-certified plastic surgeon for your facelift can help you feel relaxed and assured that you're with a highly qualified and experienced professional who can provide you with smooth, effortless results. A doctor's board-certification is the best indicator of their training in a particular medical or surgical specialty. While checking the board certification, do verify that your plastic surgeon has all relevant qualifications to perform your surgery. You can check with your state's medical board for the surgeon's board certification, education, and license authentication. To get all other knowledge you can even visit the doctor's website as well to gather more information about him.

Experience in the Procedure
After checking out the board certification and educational qualifications of your plastic surgeon do check the experience he/she generally has in performing the facelift surgeries on a regular basis. Be sure that your cosmetic surgeon has plenty of experience in the specific procedure that you are planning to have. Patients should inquire about the surgeon's experience, safety, expertise, etc. with the particular procedure or with some "new" technique or technology, if used. For this, one can even check out the reviews of the previous patients, before- after photos, etc. At the end of the day, after considering all the details make your own decision on which surgeon you want to move forward with.
Genuine References and Reviews
Asking your family doctor and other doctors for recommendations is an excellent option to start with. Personal recommendations are a great starting place for choosing a facial plastic surgeon. Ask friends or relatives for referrals if they have gotten a similar facial plastic surgery done. If they are happy with their surgeon, consider their recommendation. Getting the opinion of surgical technicians and operating room nurses is also a brilliant source of information about a surgeon's skill. Another best way to gain an insight on the surgeon is to ask previous patients' reviews about their experience and results.
We hope that these tips will help you in choosing the right plastic surgeon for your facelift surgery. If you are looking for a facelift surgery in Delhi, then Dr. Monisha Kapoor Aesthetics is one of the best clinics for facelift surgeries. Dr. Monisha Kapoor is a highly experienced doctor & employs the latest cutting-edge technology to perform a Facelift procedure.
With her high expertise & rich experience in this field, have a rest, you are in safe hands & treated with world class equipments & techniques, as per the global standards in the plastic surgery industry. Avail their service and look marvelous with that flawless skin.
For more information about best plastic surgeon for facelift surgery call us at: +91 11 40666307, 08, +91 9811 43 9395 or Email us at: plasticsurgeonmonisha@gmail.com.
To book an appointment, click here