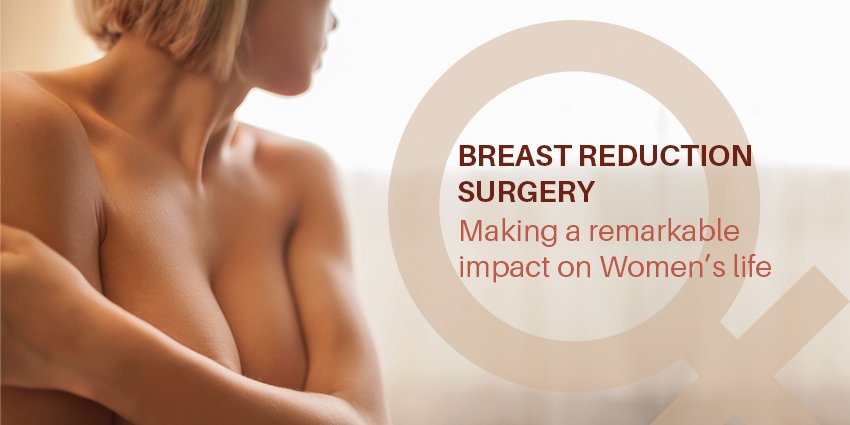 Breast Reduction Surgery: Making a remarkable impact on Women's life
Breast reduction surgery is the plastic surgery procedure for removing extra breast fat, skin and glandular tissues thereby, reducing the size of large breasts. It helps women to achieve a perfect breast size in proportion with their body and aids in improving the appearance while releasing them from the physical and emotional burden of excessively large breasts. The surgery may be performed to relieve the discomfort associated with overly large breasts.
Breast reduction surgery is generally undertaken by those women who often have had children or are overweight and want to get rid of large, disproportionate breasts, or are sensitive to estrogen. It is generally considered as a reconstructive surgical procedure. The problems associated with the over-size breast includes back, neck and shoulder pain, and may cause skin irritation under the breast crease. The weight of oversize breast tissue can curb a woman's ability to lead an active life. Some women may also feel embarrassed about having large, hanging breasts.
Breast reduction surgery is helping women to overcome these difficulties and it might come to you as a shock that it is the most preferred cosmetic surgery amongst the women from different parts of the globe. There are various health benefits associated with this surgery that makes it so popular amongst the women. Have a look at the various health benefits 
A Safe Procedure
Don't be surprised, yes it's true that this surgery is safe and the patient can recover easily by following some precautions. Though like any other surgery it also involves some risks but with time a lot of development and improvement have been made and now it has become a safe procedure for women. The average operating time for surgery may range between 90 minutes to three hours. The surgery may give you some scars but they won't remain forever. Your surgeon would be able to hide it and only close examination can disclose this. With the passage of time, the scars fade away and you will get a perfect body and a boosted confidence
Perfectly sculpted breast
The breast reduction surgery will change the shape of your otherwise sagging breast and even reduces the size of your breasts and helps you get smaller, lighter and firmer breasts that are perfectly shaped and sculpted in proportion to the rest of your body. The surgical procedure would not only reshape your body but also reshape your confidence, self-esteem, and quality of life.
Refined physical appearance
Whether you are a teenaged girl or a mature woman, the breast reduction surgery will help in reducing the size of your breast thereby giving you a refined physical appearance and looks that you always wish to have. It will let you get back into your clothes and you will no longer feel uncomfortable and you don't even have to go through with those annoying comments about the size of your breasts. It will benefit you by improving body posture, breast appearance and even reduces the skin irritation under the breasts.
Physical and Psychological benefits
Having large breasts can take a psychological toll on some women. Generally, women with the large breasts complain about the back and neck pain. The breast reduction surgery helps in providing satisfaction to the patients by reducing depression, headaches, anxiety, musculoskeletal pain, and breathing difficulties. Breast reduction frees women from the mental burden of large breasts and provides a gorgeous figure leading to an improved self-esteem and confidence.
Improved quality of life: With Exercise
Large and heavy breasts generally put limitations on participating in sports, exercise, and many other physical activities. Breast reduction is gaining importance throughout the globe as one of the most popular cosmetic surgery procedures because it helps in alleviating both physical and emotional distress and improves a patient's look. Most breast reduction patients are satisfied after realizing that doing exercise and playing sports have become easier and more comfortable with smaller breasts. Thereby, providing them with a better quality of life.
Breast reduction surgery is making a remarkable impact on the lives of the women by providing them with smaller and perfectly shaped breast. If you are planning to undergo breast reduction procedure and have any queries or doubts, contact Dr. Monisha Kapoor Aesthetics Clinic. We assure you to provide the best consultation by a board certified cosmetic surgeon who will help you learn more about this procedure.
Dr. Monisha Kapoor Aesthetic Clinic is one of the most renowned Cosmetic surgery clinic in Delhi NCR with the team of qualified and experienced plastic surgeons headed by Chief Surgeon Dr. Monisha Kapoor. They perform a wide variety of plastic surgery procedures and specializes in breast enhancement, breast reduction, liposuction, body contouring surgery etc.
For more information about best plastic surgeon for breast call us at: +91 11 40666307, 08, +91 9811 43 9395 or Email us at: plasticsurgeonmonisha@gmail.com.
To book an appointment, click here