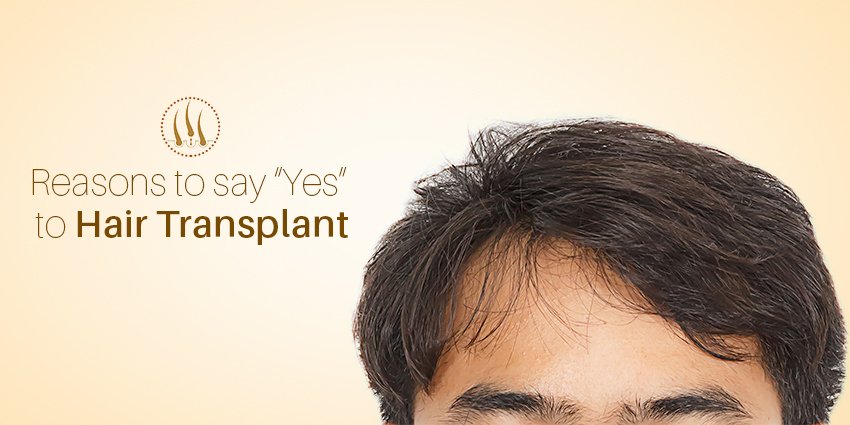 5 Reasons Why You Should Choose Hair Transplant
Hair loss causes a progressive discomfort to people & they start losing confidence, because of their balding head. So, once you start noticing excessive hair loss, you must consider going for a hair treatment. Albeit hair falls on a daily basis is normal, but the extreme hair loss including hair everywhere, on your hair brush, floor, etc. can be a severe problem. It entails that you're experiencing some serious hair fall issues. This also means that you might be suffering from an unknown illness which needs to be treated. The simplistic causes could be just being too stressed out or doing excessive hair styling.
Once you consult a doctor, they examine your condition & suggest whether hair transplant is a good option for you, after carefully scrutinizing the severity of your hair loss. It also depends whether or not you're a suitable candidate for the procedure. A good doctor will thus provide you with ample number of options to fix your hair loss problem or whether a hair transplant procedure would suit you best. Since getting a hair treatment done is a serious decision that shouldn't be taken lightly, you can consider the following reasons that explain why you must choose hair transplant:
Follow the complete aftercare instructions as suggested by your doctor and you won't face any issues, as aftercare is extremely crucial. It takes about 6 months-1 year for completely healing after performing a hair treatment procedure on an individual. During that particular time period, a person's hair goes through some minor changes. But there's nothing to worry as your hair would continue to grow naturally & they'll look better over the time.
A hair transplant is definitely going to boost your self-esteem. In today's world, looks hold considerable importance to people & hair loss can be very stressful for a person for both men & women. Hence, anything that'll make them feel better about themselves is a plus. Looking young will make you feel better about yourself. Not only will you enhance your confidence but also your overall appearance & people will start noticing you. Your self-esteem will be totally pumped up & it shall lead to new experiences for you over time.
If you are in your 30s or 40s & you're suffering from excessive hair loss, a hair transplant is a perfect solution for you. As, in this age group, your hair will start thinning out or falling out completely. Males having a history of family baldness will start noticing hair loss during those years. Hence, a man in his 30s would be a better candidate for a hair transplant as, by this point in time, the pattern of your hair isn't changing. This is probably the best time to consider a hair transplant done.
The techniques that are now employed for a hair transplant are quite modernistic. Hence, if you've been delaying a hair transplant due to the preconception of the old techniques used, you need not wait any longer. The procedures are much safer and faster now. The recovery time doesn't take that long either. The latest methods don't involve the usage of fake plugs. The hair will subsequently continue to grow for the rest of your life, without the requirement of any special care & maintenance.
Another excellent reason for considering going for a hair transplant is that a lot of people have gotten it done with stunningly impressive results. A good doctor will thus keep track of all his patients. Many doctors have before/after pictures of their patients such that the new patients can have a look at the previous results. Also, as long as you consult a good doctor like: Dr. Monisha, who also has a well-experienced & skilled team behind her, then rest assured, your procedure will turn out just right.
Dr. Monisha Kapoor Aesthetics is your ideal choice when it comes to getting a Hair Transplant done on you. With her high expertise & rich experience in this field, rest assured, you are in safe hands & treated with world class equipments & techniques, as per the global standards in the plastic surgery industry. Choose Dr. Monisha Kapoor & re-grow your confidence!
For more information on hair transplant call us at: +91 11 40666307, 08, +91 9811 43 9395 or Email us at:plasticsurgeonmonisha@gmail.com.
To book an appointment, click here