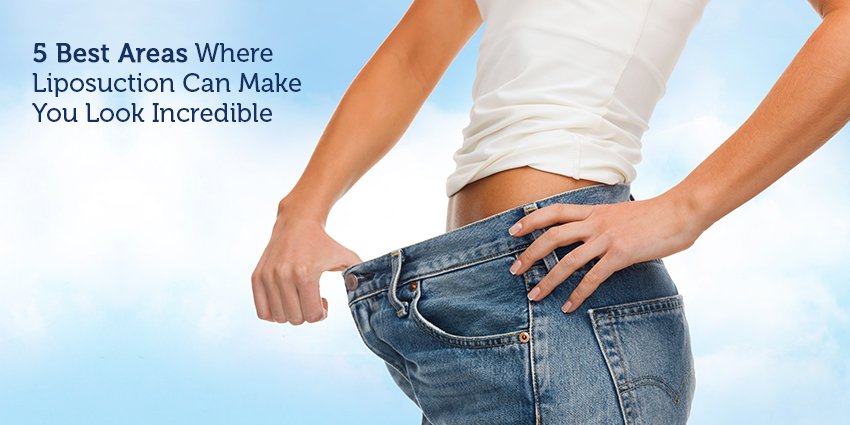 5 Best Areas Where Liposuction Surgery Can Make You Look Incredible
FAT- a small word that always gives us a nightmare. Do you experience the same? Do your old clothes won't fit you anymore? And you want to reduce that excess fat from all those parts of your body and have already tried dieting and exercise for hours in the gym, but still haven't achieved the desired results, then we have an answer as to how you can do it. The answer is Liposuction!
Liposuction is one of the most prevalent plastic surgeries that remove the pockets of excess fat accumulated on the flanks, abdomen, thighs, stomach or any other areas of the body. There is a tendency amongst both men and women to emphasise on the minute imperfections of their body to have a perfectly smooth and youthful figure. Though liposuction surgery can be performed on almost every part of the body, keeping in mind each patient different body type and goals, but there are certain body areas where liposuction can make you look Incredible. Those 5 popular areas are:
Waist Liposuction Surgery:
Waist is one of the most popular areas of lipo treatment for both men and women. We all want to have those perfect "love handles" and having an extra pound of fats there can be the most irritating thing. It can be extremely difficult to get rid of these even after accomplishing our healthy régime of diet, exercise and weight loss or fitness goals. The waist area is one of the such where liposuction treatment works really well because the skin around the waistline has great elasticity which makes it responsive to treatment. Patients who go through the waist liposuction can foresee a remarkable reduction in and around the waist area.
Thighs Liposuction Surgery:
Thighs are another worrisome area for a large number of women. Even after following regular diet and exercise, fat tends to deposit in this area. It is extremely essential to remove the accurate quantity of fat depending upon the particular characteristic of the patient's body as thighs play an important role in a woman's contour. Liposuction can be performed both on the inner as well as outer thighs. Fat accumulation in these areas can make women cautious to exhibit their beauty. But through liposuction one can get beautifully redefined thighs by getting rid of those fat deposits.
Lower Legs Liposuction Surgery:
Liposuction in this area can help you to have those toned legs by sculpting this area of your body by removing the deposited fat. The changeover from calf to ankle is presumed to be neatly trimmed, elegant and sensuous. While liposuction in this area is often challenging as the whole lower leg is to be reshaped to keep it within proportion. The procedure must be done cautiously to avoid any flaws in appearance. This cosmetic plastic surgery can turn your foreleg into beautifully contoured and slim legs that you have always desired.
Chest Liposuction Surgery:
The Male chest reduction procedure is becoming popular amongst males. The enlargement of a man's chest due to hormone imbalance with growing age is known as gynecomastia. It is a hormonal imbalance that causes the deposition of fat in the breast tissue of males thereby giving them a flabbier appearance. Liposuction surgery can be a good choice for all those males who suffers from this illness. This cosmetic plastic surgery treatment can help males to regain that muscular body, tough chest and well- proportioned torso.
Jawline and Chin Liposuction Surgery:
One of the most disturbing signs of aging is seen around jawline and under chin area. The fat accumulated in this area of the face can lead to the appearance of a double chin which can become a cause for frustration and dissatisfaction among the males and females. Liposuction can help in slimming the jawline, under chin area and around the upper neck, thereby giving a thinner, sculpted facial looks.
Liposuction Before and After:
Here you can see the benefits and changes after the liposuction surgery. Not only you get your lost beauty back, but your confidence level also increases significantly before and after Liposuction surgery.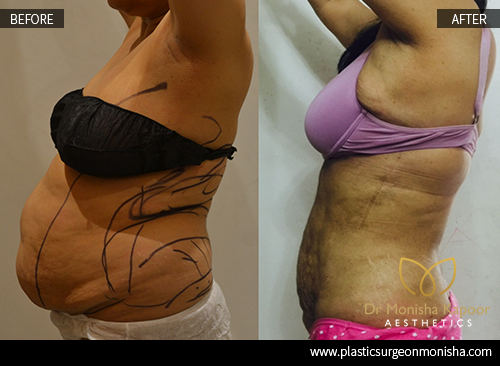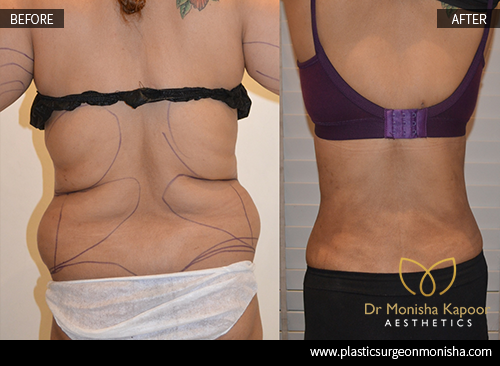 If you're upset or disappointed with those obstinate deposits of fat accumulation and planning to go for liposuction, then take your step and contact Dr. Monisha Aesthetics Clinic, counted amongst the best liposuction clinic in Delhi at affordable cost. They believe in providing an unmatched & outstanding service to their patients through their most advanced technologies and machines. Dr. Monisha Kapoor, the chief operating surgeon is renowned among the best cosmetic surgeons for performing world class cosmetic surgery. We ensure that your trust gets placed in the procedure & your fear vanishes before you go for liposuction. To get rid of the unwanted fat deposits in & around the body, come to us and feel the difference.
For any other assistance & guidance or for more information related to Liposuction surgery in Delhi, call us at: +91 11 40666307, 08, and +91 9811 43 9395 or Email us at:plasticsurgeonmonisha@gmail.com.
To book an appointment, click here