Face Bone Change Surgery
Your face holds the cue to the person inside you. Your facial bone structure plays a big role on deciding how people see you and perceive you.
If it ever seems to you that your face structure doesnt fit in perfectly to what you desire, you can alter it. Wondering how? Yes it is possible with a facial bone change alteration.
A face resembling a happy expression is a preferred one than an angry expression and downturned eyebrows. Your facial bone structure can be altered in ways that makes you look more trustworthy.
Each one of us want to convey the best impression of ourselves and give the best expressions while we are here. We can alter your facial features and facial bone structure to get the one you ever want. Your face can portray a happy expression, upturned brows, prominent facial bones or decrease in facial bony prominences.
For those seeking to alter the facial bone structure, the prominence of facial bones can be increased by increasing their height with either facial implants or facial grafts. Bony prominences can be also be decreased by burying them down. Face bone structure prominences can be increased or decreased, depending on your overall face shape preferences.
Cheek bone augmentation/reduction
It was the fierce of her face that he loved. Desire those killer cheekbones?
Cheek augmentation can make it possible. Cheek augmentation implants are performed for people who have very flat cheeks and need augmentation in that area. It can done both non surgical way using fillers and surgically using cheek implants.
During a face lift surgery, we re-arrange soft tissue to get that epic bone structure and simulate fuller cheek bones.
On the other hand, a cheek reduction procedure can help reduce prominent cheekbones to even out the cheeks so that they match each other.
Angle of mandible
In some cases, the mandibular angle looks prominent which comes mainly from the bony part rather than from the cheek muscle. prominent jaw bone especially at the mandibular angle as well as the board or square shape of chin bone gives rise to a masculine lower face.
The concept of mandibular angle surgery is to contour the jaw line to be femininely small, smooth and sloping and balance out an overly prominent jaw line.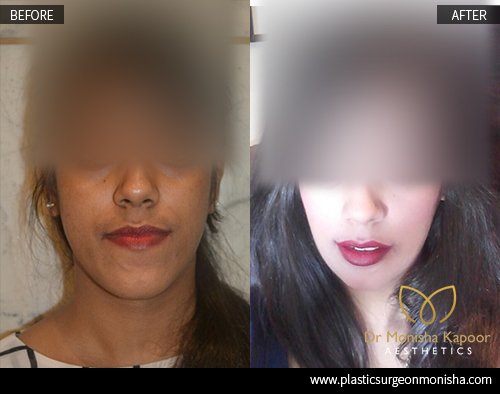 Facial Bone Alteration