Rhinoplasty Surgery
No feature influences facial beauty more than your nose.
Your nose is central to your face and dominates your overall appearance. Thus the size and shape of your nose matters.
Small adjustments to the nasal contour can make big differences, and beautify your face, changing the way how you feel. Such small precise adjustments are Dr Monisha's speciality.
The Rhinoplasty procedure is planned and individualised meticulously keeping in mind your specifications.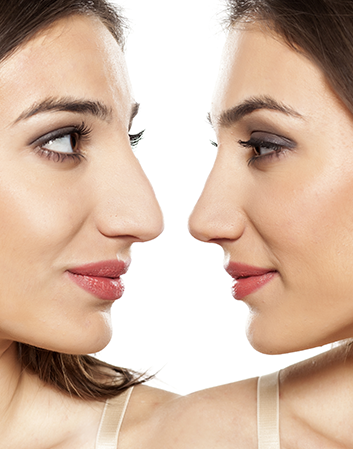 Understanding the procedure
Rhinoplasty refers to a cosmetic nose operation that can reduce and refine the nose. It plays a pivotal role in shaping the nasal tip, making it look more refined and elegant.
Nowadays it is one of the most frequent facial surgery requests by patients looking for a more feminine nose. The underlying reasons for this reshaping could vary from being unhappy with the shape of your nose, to feeling self conscious of a large hump or a prominent tip. It is equally exasperating if found as a subject of jokes in your social circle.
Some individuals may sustain relatively minor injuries to their nose. Right after the initial trauma, you may experience unsightly deformities. If your nose is slightly or drastically more deviated, the injury can be repaired using a Rhinoplasty surgery. Prominent nasal humps and tips are frequently associated with more masculine features and may have a distressing effect if they are present on the nose of the female. It affects the nasal profile of a woman and may give rise to an overall harsher feminine facial appearance. For men, it can mean that the nose figures prominently and dominates the face. Both men and women alike wish to have a normal, average nose that will blend into their face rather than dominate their facial features.
Rhinoplasty with Neurotoxin and Fillers
Rhinoplasty with neurotoxin and Fillers is a non surgical procedure for reshaping the nose. This is also referred to as the non surgical rhinoplasty.
Non surgical rhinoplasty is a safe, non-invasive alternative to traditional rhinoplasty, sometimes called the 15 minute nose job. This nose reshaping procedure involves injecting the dermal filler in small amounts and in precise locations into your skin. There remains total control over the shape and contours created by the procedure and just in a few minutes, you are close to get a natural, aesthetic appearance.
Surgical Rhinoplasty
Open Rhinoplasty
The open or external rhinoplasty approach involves a small bridging incision, called a trans-columellar incision, to connect the right and left nostril incisions. The advent of open rhinoplasty has truly revolutionized the treatment and addresses complex nasal deformities such as cleft-lip rhinoplasty, twisted noses or severe post-rhinoplasty deformities.
Closed Rhinoplasty
During the closed rhinoplasty approach, all of the surgical incisions are positioned inside the nostrils. Although parallel incisions enclose nearly half of the nostril lining, no part of the incision can be seen externally and one can avoids the risks of visible scars.