Forehead Surgery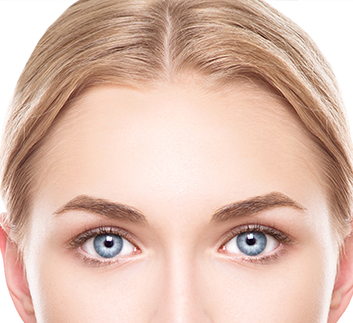 A forehead lift, also known as a browlift or browplasty, is a cosmetic surgery procedure used to elevate the position of the eyebrow that may obstruct vision and alter the facial expressions. The deep worry lines that run across the forehead may portray to others anger, sternness, hostility, fatigue or other unintended emotions. It is a surgical procedure to change the position of the soft tissues of the forehead and create an arch with a peak. The surgery can change the appearance of the upper face and also reduce sagging of skin in the eyebrows and above the nose.
As you age and look into the mirror, your eyelids seem to be drooping and sagging which can be a disheartening condition. Your brows just aren't as high and horizontal forehead lines appear. Due to aging, sun associated skin damage and genetics, drooping brows is a common change that we tend to notice as we age. The brow area is a significant one as it seems to be one of the first areas on our face to reveal our age.
The correction of your brows may require a surgical brow lift and there are also some non surgical ways to lift your brows such as using Neurotoxin Cosmetic, Ultherapy, Filler or a combination of all three. When Neurotoxin Cosmetic is administered to the forehead area, it will relax the forehead muscles and make the forehead smoother. Dr Monisha Kapoor is one of the best and experienced plastic surgeon to perform the Forehead lift to help to get a definite brow lift with a  smooth transition of the arch. The procedure helps lift the eye lid, granting more lid space as well as a more open and youthful looking eye.
Ultherapy works at tightening the dermal tissue and muscles in the temple area as well as above the brow using Ultrasound energy.  The procedure and the effects of tightening are very natural and can last for years.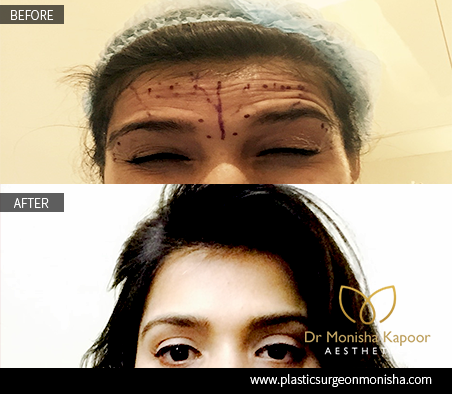 FOREHEAD LIFT