Permanent brow
Eyebrows are a standout beauty feature which add a frame to your face.
Permanent makeup, or cosmetic tattooing, which is a fast-growing trend in the health and beauty industry can lend perfectly shaped eyebrows. For faint, light colored eyebrows that don't stand out, or no/partial eyebrows, a cosmetic tattoo can be of great help.
Permanent naturally pink lips
Pink lips bring out the best in you and make you appear more charming.
For enhancing your beauty with a lovely smile topped with shiny pink lips, go for permanent natural pink lips. Lips give a very distinctive appeal that complements with overall features of your face; hence dark lips can make you lose confidence. For people who do not have pink lips or those whose lips have become dark and pale that aren't much appealing, are ideal candidate for permanent naturally pink lips.
Kiss your lipstick a good bye.
Mole Removal/Mole creation
A mole can look distinctive, flattering and lend that extra special touch. With cosmetic tattooing, you can get a beauty mark that's uniquely you.
Creating a beauty mark or enhancing an existing freckle or mole whether from scratch is great for a subtle change. Whether you're looking to accentuate pre-existing mole, or getting your mole on for a costume party, Dr Monisha can help you get that flattering beauty mark.
Cosmetic tattooing for mole removal is a non-surgical and non-laser form of cosmetic tattoo removal, performed via the Vasculyse treatment.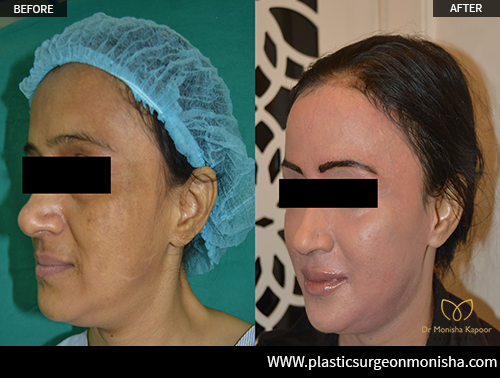 permanent-makeup