Hair Transplant in Delhi
Hair Transplant in Delhi, More hair in your comb is making you worried?
Hair transplantation is a surgical procedure which works essentially by extracting hair from the back of the scalp and transplanting it in the bald area.
Both hair loss and hair thinning are a common phenomenon in both men and women as they age and no less demoralizing. The hair loses its elasticity resulting in brittle, lifeless hair. The major factors that affect hair growth patterns are ageing, a change in hormones, and a family heredity of baldness. Also it's not uncommon for menopausal women to experience a change in hair quality and distribution, hair thinning and hair loss simultaneously. When hair breakage is faster than the rate it grows, the person starts losing on length and that leads to thinning.
As a rule, the earlier hair loss begins, the more severe the baldness will become. Board certified plastic surgeons have been successfully performing hair transplants and hair restoration procedure for more than 30 years. At Dr Monisha's Clinic, we are changing the way hair transplant surgeries are performed.
Hair Transplant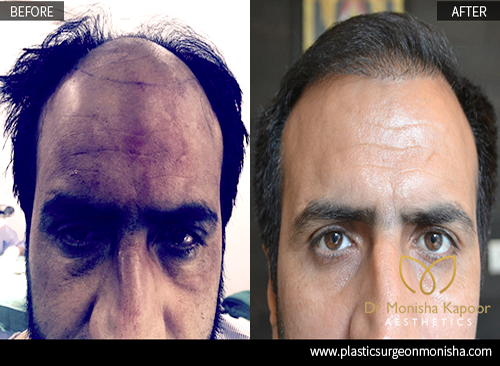 Hair Transplant
Hair Transplant
As anyone who has been there knows, once you start to lose your hair it's hard to think about anything else. But it doesn't have to be forever. The most modern hair transplant techniques can get you back to looking and feeling the way you used to – or even better. A hair transplant is a lifelong investment in looking and feeling your absolute best.
the Clinic is dedicated to providing the best quality patient care in the fields of medical hair transplant and surgical hair restoration. Our surgical staff members are specially trained in these fields, employing the modern technology and techniques available making plastic surgeon monisha Kapoor  Institute much more than just a hair transplant clinic.