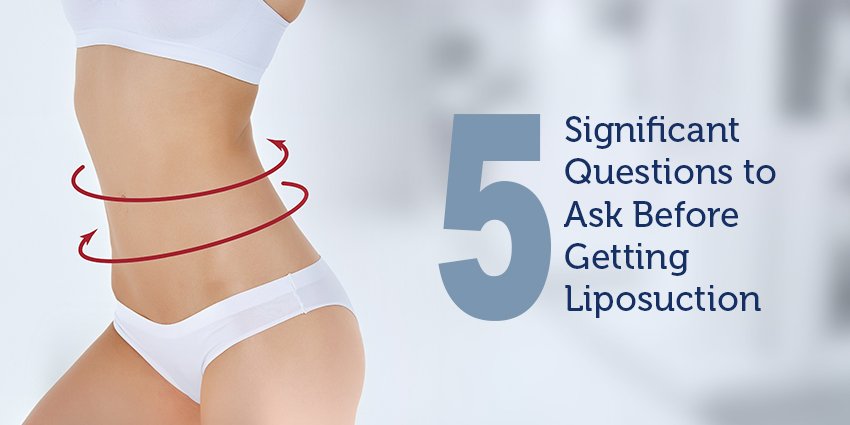 5 Significant Questions to Ask Before Getting Liposuction
Liposuction- a term with which most of us are familiar with helps in improving and redefining the contours by eradicating the pockets of those excess fat cells deposited between the skin and underlying muscles on various parts of the body like abdomen, flanks, thighs etc. These deposited fat cells always give us the most dreaded nightmares. The liposuction procedure helps you to get a curvaceous and reshaped body and is an ideal solution for anyone looking to redefine and reshape their body outlines.
For all those men and women who are planning to get the liposuction surgery done, the procedure starts with a consultation. The success of every cosmetic surgeon begins with effective consultation wherein one can have a one on one conversation with the surgeon. Your meeting with your plastic surgeon can be a good opportunity for you to get all significant information about the surgical procedure. Additionally it's also the best time for you to clear all your doubts and to get an answer of all the questions that you have might. There are some important questions that you should ask when meeting your cosmetic surgeon for the first time. These questions will help you to decide whether cosmetic surgery is beneficial for you and ensures that your safety and looks are in skilled hands. So, here are those 5 significant questions that you should keep in your mind.
Your Qualification and Board Certification?
The first and the foremost question in your checklist is to know and enquire about the qualification and the board certification of your cosmetic surgeon. Always search for a cosmetic surgeon who is certified by the American Board of Plastic Surgery. A certified plastic surgeon with a wide knowledge and long experience in body carving should always be in your options whileyou fix up your liposuction appointment. With this also enquire about what kind of training the surgeon has in the liposuction procedure. So, always choose a surgeon who is board certified who can ensure you about the safety and best results.
How often you perform the liposuction procedure?
As liposuction is one of the most popular procedures all around the globe, it is normal to expect that most plastic surgeons have fairly a good experience in performing liposuction. Though in reality, this may not always be true. So, choose your cosmetic surgeon carefully and select the one who performs the procedure that you are looking for in large number. Do remember to check that the surgeon you are going to choose has worked with the different kinds of patients having different body types and is well trained in the current state of art techniques.
What are the risks and complications involved?
Before getting any incision on your body make sure to enquire about all possible risks and complications involved in the liposuction surgery. There is no surgery that doesn't involve the risk and complications even if your surgeon promises so. Though considered as a safe process, some of the possible problems that might occur after liposuction are dizziness, swelling, asymmetry, blood clot, embolism, skin ulcerations, changes in the sensation of the treated areas, pigment changes and infection.
What will be the total expenditure of procedure?
Cost should not be at the forefront while taking a decision related to liposuction, as it's all about looking and feeling the best. Although it should be a part of your checklist and you must be prepared for the costs involved. So, before going for a surgery do a comprehensive research and get a good idea of the liposuction cost. Though there may not be a fixed price for a liposuction procedure, it may vary depending on the patient's specific needs and goals. A renowned and a trust-worthy cosmetic surgeon will provide you with a comprehensive as well as customized fee quote which may help you in taking the right decision. Be careful about any fee quotation that sounds too alluring to be true.
How much time will it take to recover?
Though there is no fixed time for the recovery process, generally it takes 3-4 months for the patient to feel completely normal. The recovery process may vary depending on the type and extent of procedure and is also based on several factors like volume of fat cells removed and area from where they are removed. Ask your cosmetic surgeon how much time it will take away to resume your normal activities, including work, exercise etc. Before you plan to get your surgery, make your mind and be sure that you are required to be out of work for a few days or weeks, depending upon how complicated procedure you are planning to undergo.
Of course, this list is not complete. There may be number of other things that you would wish to discuss with your cosmetic surgeon.You can include these five questions in your list and can start by asking these as well as other questions that you will bring while making a first visit to a cosmetic surgeon. So, be ready with your questions and get started by choosing a board certified cosmetic surgeon.
If you are considering to undergo a liposuction surgery, come and visit Dr. Monisha's Aesthetics Clinic- one of the most well-known cosmetic surgery clinics in Delhi NCR. Headed by the chief surgeon, Dr. Monisha Kapoor is an expert, renowned & reputed plastic surgeon certified by American Board of Plastic Surgery. She explains the entire procedure clearly to her patients, including the possible risks as well as the precautions that need to be taken and makes sure that the patients are fully satisfied. The trained staff with their talent and expertise will ensure you that your trust is placed in the most safe hands and that your fears vanish before you go for liposuction.
To acquire more information about liposuction get in touch at +91 11 40666307, 08, +91 9811 43 9395 or send an Email at : plasticsurgeonmonisha@gmail.com.
To book an appointment, click here