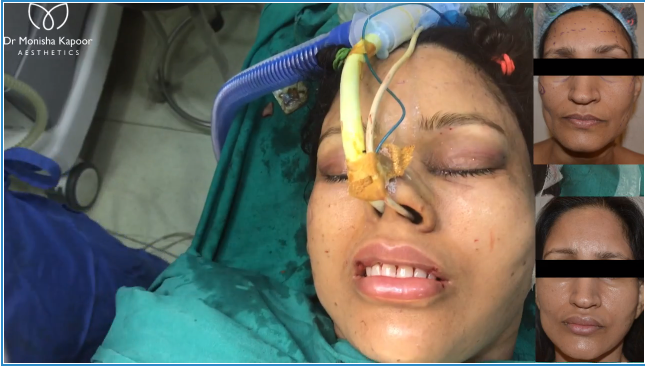 5 worst known things about facelift
Facelift is a very challenging and technical procedure requiring skillful and aesthetic hands to give natural results.
It looks artificial and too stretched.
This is so untrue as it depends on the skill of plastic surgeon to give natural results as shown in the photographs and is no way facelift result done by Dr. Monisha Kapoor New Delhi, India has ever looked unnatural.
The scar show up badly and everyone comes to know that the person has gone under the knife.
This fear leads to many seeking non-surgical techniques to have facelift kind of result but they are always disappointed as these results can only be archived via surgery. Scars usually in facelift are hidden and cannot be seen unless the person himself or herself point it out says "Dr. Monisha Kapoor" the female plastic surgeon in Delhi who has been giving consistently satisfactory natural facelift results and thus happy patient with any visible scars.
Smiling and talking is restricted
This myth about facelift is so false as facelift tighten up loose SMAS layer and doesn't cause any weakening of muscles. Weakening of muscles is caused by non surgical Methods like use of Neurotoxins and hyaluronic acid fillers.
Facelift gives the best natural smiling by not disturbing the facial muscles,
Facial Nerve can get injured leading to deviated face and this is an very unlikely scenario as facial nerve is much deeper to the layer of the skin being lifted in facelift surgery Though facial nerve injury is documented in facelift surgery but in the experienced hands this is very unlikely says Dr. Monisha Kapoor who has done close to 500 facelifts and does the maximum numbers of facelift in India.
Facelift surgery is only for the stars and each one of us is a star for our near and dear ones. So facelift surgery is not just for the stars but also for common people who desire to look and beautiful and young.
For more Facelift Surgery information on India contact Dr. Monisha Kapoor Aesthetics one of the Best plastic surgeon in Delhi (India).
Click Here Face lift Surgery Video : Face Lift Surgery without Scar in Delhi | Best Plastic surgeon in India
Map Location : Google Map Location